Unzählige Momente voller Schönheit, die ich mit ihm verbracht habe. All die lichtdurchfluteten grünschimmernden Sommernachmittage, die wir mit der Flotte unterwegs waren, zwei Mann, zwei Boot und eine Luftmatratze. Besuche bei der seltsamen Gräfin vom Schlachtensee, Bette-Davis-Filme, mein Ständchen als Dark Angel, das von einer leeren Ghettoblaster-Batterie und einem schizophrenen Nachbarn leider vereitelt wurde. (Ich trug einen langen falschen blonden Zopf, starkes Makeup, Dämonenflügel und Leggings – ein Outfit in dem man nicht unbedingt eine Autopanne haben möchte. Hatte ich aber.) Die schöne schöne lange Waage-Skorpion-Nacht, die wir als "Die drei Fragezeichen in Ekstase" verbrachten, oder als Brüderchen und Brüderchen im lokalen Darkroom oder als Flashmobber im Kate Bush-Rausch.
Er war in den guten Tagen da und er saß Tag und Nacht am anderen Ende der Standleitung in die Hölle, wo ich mit den Teufeln heulte. Er hat mich lachen und weinen gesehen, schwimmen und Tanzen, Head- banging und bursting. Er hat den Dämonen ins Gesicht geschaut und sich nur kurz schrecken lassen. Er ist ein Festival von Farben. Das Schwarzweiß in dem Bild, das ihn als Engel Berlins zeigt, wird seiner funkelnden Farbenfreude nicht gerecht.
Sein Geist befähigt ihn zu verstehen, zu begreifen. Seine Seele lässt ihn lieben. Und wie viel das ist, durfte ich erleben. Darf ich erleben. Und ich freue mich, dass ich ihm gestern sagen konnte, dass die Höllenfahrt der Poseidon offenbar ein Ende hat. Und dass das vor allem ihm zu verdanken ist, das sage ich ihm jetzt. Hier. The ship may be a little wrecked, aber die Crew ist zurück an Bord.
Er ist ein Elefanten-Halter. And I, I am a lucky man. Because I love him.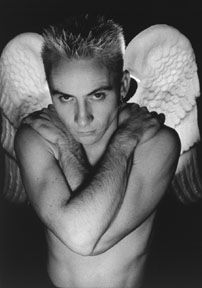 (Foto: Jürgen Baldiga)