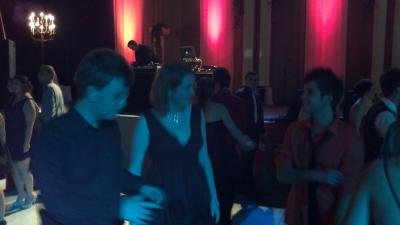 In einer Sache hat Madonna ja recht. Some of the happiest moments happen on the dance floor. Normalerweise muss man dafür zwischen 15 und 25 sein. Umso schöner, wenn es ca doppelt so alt immer noch möglich ist. Einer der schönsten Momente nicht nur der gestrigen Nacht, sondern meines gesamten Erwachsenenlebens begab sich also letzte Nacht, als die beste Freundin des Patenkindes einmal quer durch den Saal gerannt kam "Los jetzt! Sie spielen es!!" und mich auf die Tanzfläche schleppte, wo ich mit ihr und dem Patenkind und der erweiterten Familie der nächsten Generation (der quasi-adoptierte homosexuelle Franzose und sein Boyfriend) zum Tanzen kam.* Schade, Madonna, dass Du nicht dabei sein konntest, aber "Born this way" ist das bessere "Express yourself".
Der ganze Abend war eine leuchtende Quelle der Inspiration und der Freude. Wow. Angefangen mit dem Einzug der Abiturienten zu "We are young" über DJ-Aussetzer (Kann man bitte Marianne Rosenberg mit einem Schlag aus allen Setlisten eliminieren?!) bis zum beschriebenen Moment. Danach gab es einfach nichts, was den Abend noch schöner hätte machen können und so konnten wir ruhigen Gewissens ziehen und die Jugend unter sich weiterfeiern lassen. Wahrscheinlich feiern sie noch. Es ist ihnen gegönnt.
*Und, nein, das Photo zeigt nicht den Moment. Wenn ich tanze, dann tanze ich. Dann mach ich keine Photos.