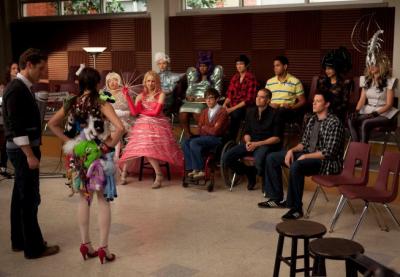 Look at Brittany´s* GaGa-outfit (far right – the alien has landed.) Darauf ist nicht mal die Lady gekommen!**
*Ich freue mich sehr über Brittany´s Präsenz in der zweiten Hälfte der ersten Staffel. Die besten one-liner ever. The coolest dumb Blonde in TV right now. I say that with maximum respect.
"You are such a misogynist!"
"I once saw a massagoniste when I sprained my ankle."
Oder so ähnlich.
**Oder vielleicht doch. Who cares?