Man beachte vor allem auch den Lichtwurf der Pailletten an der Wand, die blaue Blume der Romantik auf dem Balkon, den zarten, edlen Flauschrausch vom Miss Komas Polarfuchs, die "Immortelle"-Karte von meiner Anglistik-Fakultäts-Sekretärin und den güldenen Silberblick Faye Dunaways. Rechts am Hocker lehnend, neben dem Bild der Melrose-Miezen – das Geburtstagsgeschenk für meine Schwester, und ganz rechts, im Anschnitt, für Eingeweihte, die Wakefield-Poole-Collection mit der Ur-Fassung von Boys in the Sand. So sieht ein goldener Sonntag aus! (Man ignoriere den ungewaschenen Zustand der Fensterscheiben, das wäre frisch geputzt dann echt too much.)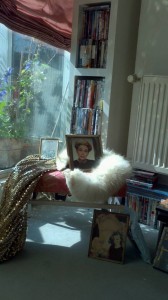 Jetzt einen Kaffee und am Nachmittag freu ich mich auf Strike, Koma, la Nina und dann kommt auch noch Couchie-Lee auf Luckies Terrasse. Noch perfekter könnte das gar nicht sein, ist es aber. Weil ich mich die ganze Zeit außerordentlich auf morgen vorfreue.
Der dazugehörige Soundtrack: All of Nena auf shuffle.