Liebe gay-gratis-sex-clips und "Bareback Mountain"-Googler!
Auf dieser Seite werdet Ihr nicht fündig. Geht zu Skeezy.com. Oder kauft/mietet Euch eine DVD, denn auch der Pornobranche geht es schlecht, und dadurch, dass Ihr Euch gratis befriedigt, macht Ihr es auch nicht besser.
Ihr könnt ja nochmal hierher zurückkommen, wenn ihr Eure dringlicheren Triebe abgefertigt habt.
See you around.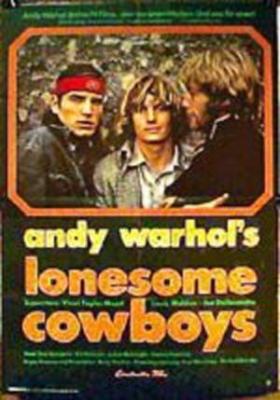 Über Andy´s Cowboys erfahren wir bei www.imdb.com folgendes:
"In the wild wild west, Ramona Alvarez and her perpetually stoned nurse run into five gay cowboys. The seven members of the party desire a handsome male drifter, except for the transvestite sheriff, who can't be bothered about anything but his outfit. All hot & bothered at this point, the cowboys rape Ramona, who subsequently has sex with the drifter and, in the afterglow of sex, wants to form a suicide pact with him. The drifter rejects her new desire and rides off into the sunset with another man."
Ich drück jedenfalls schon mal Ang Lee das Däumchen! Hulk the Oscars Ang!