Sie ist auf Seite 120-something. Das heißt, den Arschfick auf Seite 34 hat sie schon hinter sich und weitergelesen. Pchuh. Es fühlt sich in etwa so an, als ob meine Mutter mein Buch lesen würde, stellen Sie sich das mal vor. Because she does.
Gestern Sybille Schmitz-Tag. Ich glaube, ich muss mal wieder nach München, nicht nur, aber auch, um ein paar Blumen auf ein Grab zu legen. Nach Sybille-Doku auf VHS ein langer Nachmittagsschlaf, der bis in den Abend ging, danach Kartoffelgratin ohne Chichi. Wein mit Roomie, was wieder in einem Song and Dance gipfelte, angefangen mit irgendwas aus Evita, dann Cher, You don´t own me, so dass man Bette Midler überhaupt nicht vermissen würde (No, I was the Goldie (Okay. I was the Diane.)), und unser mittlerweile immer runder und perfekter werdendes Elephant Love Medley. Apropos, neue Mitbewohner: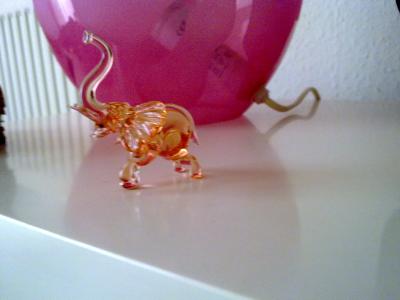 Süß, oder*? Es hilft manchmal, wenn man das Leben kurzfristig zum Song-and-Dance umfunktioniert. Ich denke, David Bowie macht das bestimmt auch. Shirley MacLaine sollte häufiger. Nur Gaga hat da irgendwas missverstanden.
*Nicht nur süß, sondern auch glücksbringend. Rüssel hoch ist nämlich ein Glücksbringer, das muss man wissen. (Elefanten mit Rüssel-runter aussetzen oder Menschen schenken, die man nicht mag.)